Stores / Shopping
Timberland
Our mission is to equip people to make a difference in the world.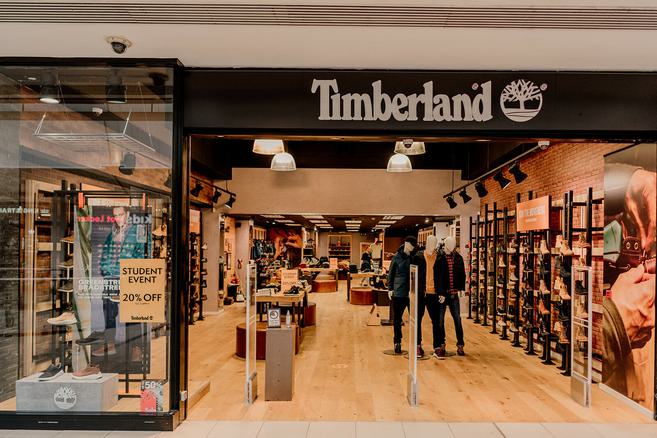 About
Our mission is to equip people to make a difference in the world. We do this by creating outstanding products and by trying to make a difference in the communities in which we live and work. We demonstrate this philosophy across all facets of our company from our products to our employee involvement in our communities.
Hard work, innovation, and a love of the great outdoors are all big parts of the Timberland story. They have been since the very beginning.
It all started in 1952 when our founder, Nathan Swartz, bought a half-interest in the Abington Shoe Company. He worked his way up from an apprenticeship after immigrating to the United States and eventually bought out his partner and welcomed his sons into the business.
The Abington Shoe Company soon moved to Newmarket, New Hampshire, located in a tiny corner of New England known for its majestic mountain ranges, rocky shorelines, dense forests, rivers, lakes, and access to great east coast cities. This part of the world experiences every type of weather—blizzards, instant rainstorms, bitter winters, and summer heat waves.
Stepping outside in any kind of weather was a problem Timberland was born to solve.
In 1973 our original waterproof boots called the "Timberland" were invented. They were rugged, well-crafted, and—thanks to an innovative injection molding technique which was new to the footwear industry—they withstood the elements. These premium "yellow" boots set new standards for waterproof performance in the footwear industry. They became equally popular with outdoor enthusiasts who needed protection in all conditions, professional trade workers who needed rugged dependable gear, and many others who just wanted a great looking pair of boots. These boots defined our brand. They were so groundbreaking that in 1978 we renamed the entire company.
Timberland's heritage of hard work, innovation, and love of nature continues. We are here to inspire and equip the world to step outside, work together and make it better. Today, we find the outdoors everywhere, from right outside our doors to places far beyond. We find it in cities, suburbs, and the countryside. It's where we work, play and connect to one another. That's why we are on a mission to make our brand and company a force for positive change. We are committed to making our world greener, our communities stronger, and our products better with less impact on the environment.
Store information
Location
Unit 332, Lakeside Shopping Centre